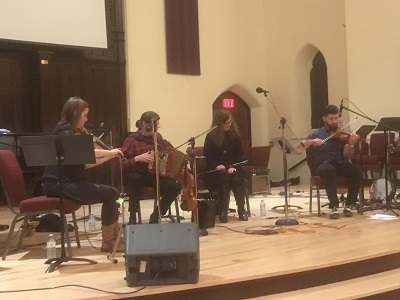 Central welcomed Alison Lupton and Friends to our sanctuary Friday night. Their combination of Irish and Bretton Celtic music was a wonderful way to usher in St. Patrick's Day. 250 people enjoyed the entertainment that included celtic step dancing, and a performance that included members of our very own praise band.
We don't have the final numbers yet, but we'd like to thank everyone who came out. Your support for our friends at the Cambridge Self Help Food Bank and the Trinity Community Table is very much appreciated.
We will keep you posted when we get the final numbers from the evening.
On behalf of the Missions & Outreach Committee, we'd like to extend a special thanks to Andrew and Linda Foster and to Scott and Val Geddes for the ef
forts to organize this event.