Welcome to Central Presbyterian Church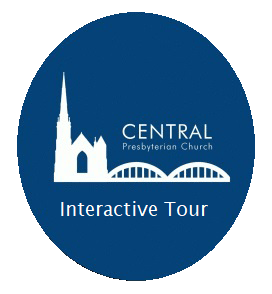 We have prepared this interactive tour to help you unlock the meaning behind the symbols in our church.
You can dip your toe in or you can dive right in. When you click on one of the symbols on the map below, you will receive a basic description of the story behind the window it represents. Click on the "Learn More" button and you can examine an interactive view of the individual symbols in each window.
A Brief Description
Here's a few details about the building. Built in a Late Gothic Revival style, the cornerstone was laid in 1880 and the original building was completed in March 1882. There have been a number of alterations over the years, including the chimes, the insertion of the balcony, the Casavant Freres organ and more recently the new stage. Even our beautiful stained glass windows are a later addition, many donated by families within the congregation.
The building was originally lit with gas lights. The current electric lights were added in 1904. The Bell tower soars 184 ft, while the roof stands at 64 ft.
Central is one of the most photographed buildings in Waterloo Region and it's position beside the Grand River, with the historic Main Street Bridge, makes it an iconic symbol of the City of Cambridge.
Of course, that position perched along the banks of the river does present challenges. The church has been flooded 12 times, the last time in the great flood of 1974.
Weddings and funerals, Sunday worship and Christmas Eve services; Central has seen it all. For more than 100 years, we have been a welcoming family, sharing the good news of Jesus Christ with anyone searching for hope and meaning.
Welcome to our home. Our doors are open every Sunday, and you are always welcome.