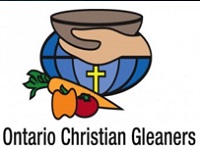 I would like to thank the Men's Breakfast club for inviting me to speak about food insecurity and poverty alleviation in the Dominican Republic. The breakfast was attended by about 30 men from the church. As always, Sarah Barrie cooked up a wonderful breakfast and there was a time to renew friendships.
I spoke about partnerships and co-operation. The agencies that I spoke about are accomplishing amazing things through their collaborative efforts.
For those who attended, here is a list of the agencies that I spoke about.
To learn more about these missions, please follow the links. Together, they are doing amazing work. They are building a better future. They are moving mountains.
Of course, I fumbled through my presentation. If you want to know what I intended to say, here's a transcript.
I'm here today to introduce you to the Ontario Christian Gleaners. The Gleaners is a local organization. Their facility is just outside Cambridge on Morrison Rd. The Gleaners make soup. Their ingredients are surplus vegetables from local farms and grocery stores. They cut, clean and dice the vegetables. They then dry the veggies and package them into soup mixes that they make available free of charge to Christian relief and development agencies around the World.
Last year, the Gleaners produced more than 7.5 million servings of soup. Their soup mixes have been shipped to more than 45 countries. This part of their story is quite well known here at Central, but the story doesn't end with soup. There is so much more.
In 2014 and again last year, I had the privilege to visit the Dominican Republic and see how Gleaners soups are used to alleviate food insecurity and allow people to focus on building for tomorrow.
Our host organization was the Samaritan Foundation. They are builders. They build houses, schools and churches. They've built a drug rehabilitation centre, and adult vocational training centre and they are building a pediatric hospital.
The Samaritan Foundation doesn't go into communities and build houses. Instead, they build new communities from the ground up. Their communities include proper sanitation and sewage treatment; safe water and of course, sturdy, well built homes. Buildings, infrastructure and logistics are their mission and their strength. They don't run schools or hospitals. Instead, they partner with mission organizations that have the focus and the expertise to make these projects a success.
Let's take a look at how this works. Today we'll look at El-Batay. El-Batay is a slum a couple of miles west of the Sosua Dump. It is a place of abject misery. The shacks are built from scrap wood and roofed with scraps of tin, all of it salvaged from the dump. The rafters are tree branches hacked out of the nearby bush. These shacks are jammed chaotically into an impossibly small area. Garbage, human waste, rats, snakes and termites are everywhere. Life in ghettos, like El-Batay is pure misery.
The dump is the heart economy of El-Batay. Most of the people living in El Batay, scrape together an existence salvaging whatever then can from the dump. In the Dominican Republic, everything ends up in the dump. There is no sorting facility. Used toilet paper, broken bottles, needles, construction waste, ordinary garbage, recyclables, medical waste, it all ends up in the dump. And the people of El Batay, amid an almost unimaginable sea of flies and dust and stench, must wade through this garbage with their bare hands (They can't afford gloves), to scrape out enough of value to eek out a living. It's dirty and dangerous work. And for their efforts, they receive about a dollar a day, on a good day.
This is the World that the Samaritan Foundation and its partners operate in. Husband and wife, Robert & Judith Terrero are one of those partners. Roberto and Judith entered this world about 10 years ago. The Terreros saw the need and left their comfortable lives in the capital, Santo Domingo, to start a school in a beat-up storefront on the edge of the slum.
It was a struggle to get parents to send their kids to school. School is about the future. School is about hope. And in places like El Batay, the future is a dark tunnel and hope a useless fantasy. The breakthrough for the Terreros came when they partnered with the Samaritan Foundation to build a school lunch program around Gleaners soup. The lunch program allowed parents to stretch their pesos a little further. Remember, they survive on about $30/month, so every little bit helps. That little school grew and by 2015 was bursting at the seams.
Again, the Samaritan Foundation stepped in. On land purchased by a dutch charity, SosuaKids2School, the foundation built a big, bright new school Colegio Evangelico Asher, to replace the old facility. Today, more than 300 children from the ghetto receive a good meal every day, a good education and a chance to dream about a better future. Asher consistently rates among the best schools in the country. The children of Asher finally have a fighting chance.
Just a little side note. That pediatric hospital that the Samaritan Foundation is building? It's just a short walk across a field from the school. The World doesn't need to be as it is today. The World can change.
Back to our story, Cups of Cold Water is a ministry that serves the people who work in the dump. They started simply enough. Two days a week, they provided safe clean drinking water to the dump workers. With the help of Mercy Ships and the logistical help of the Samaritan Foundation, they now serve, along with the safe drinking water, bread and Gleaners soup five days a week. They're in the dump alongside the people of El Batay every day, but they also go out into the community to offer counselling and spiritual support.
The first time I visited the dump, it was crawling with children. With life as hard as this, a family needed every helping hand it could get. The kids were brought along into the dump. It was just how life was.
This past November, I again visited Cups of Cold Water in the dump. The crowds in the dump were much smaller and I saw just two kids. Yes, miracles can happen, even today.
Here's the story of how it came to be. Of course there's Asher School and the missionaries from Cups of Cold Water push really hard to get the kids into school. They ask the parents, "Is this the future you want for your children? No? Then why are they here?" The answer is often, we can't afford to send them to school. Asher is free, but the kids still need a school uniform. That is the law in the Dominican Republic. School uniforms cost money. When I read my original notes I thought they said about 40-60 pesos, but that was a bit sloppy on my part. My penmanship can be pretty horrible. The real number is closer to 400 pesos (about $10-15 dollars). That is half a month's income for the people of the dump.
Yes, that's way out of reach for most families. The folks at Cups of Cold Water could give out the uniforms, but instead they will ask, "how much can you afford to pay?" If the answer comes back 2 or 3 pesos, then that's how much the new uniform costs. The missionaries at Cups of Cold water, have pushed the parents to invest not just money but also hope in their children's future. And it has worked.
The story isn't finished yet. We still need to talk for a couple of minutes about the Samaritan Foundation itself. The foundation's primary focus has always been building homes. The foundation buys land up in the hills and builds new communities. These communities have houses, with proper plumbing. They have proper sanitation and sewage treatment, safe water and safe houses.
Most of the dump people can't afford a home of their own. They must rent those wretched shacks in El Batay. Half their income is consumed by rent, and if they miss even one rent, they are out. The Samaritan Foundation give their houses to families from ghettos like El-Batay. A family is given the use of a home, rent free, for five years. If they look after the house and they don't cause any trouble, ownership of the house will be given to the mother of the family.
With a safe secure home, a church to go to, opportunities for vocational training and a school for their children, these families can begin to dream about a better tomorrow. And when they dream it, they build it. The older, more established communities are flourishing. They are safe places to raise a family and they offer stability and economic opportunities that can't even be dreamed of in El Batay.
To me, the coolest part of this story is the collaboration. Each agency sticks to what it does best, whether that be making soup, building infrastructure, teaching, counselling, pastoring or whatever. None of these agencies could accomplish much on their own, but by working together they are moving mountains and more importantly they are giving the people they serve the tools and the confidence they need to move mountains.
Thanks Again
Greg