Touch an area on the Window to learn more about the individual symbols.

The Disciples on the Road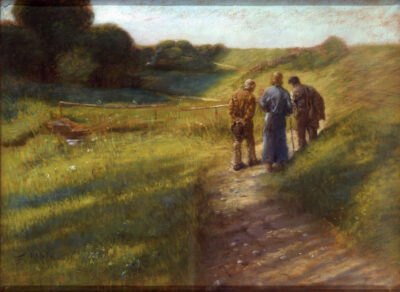 13 Now that same day two of them were going to a village called Emmaus, about seven milesa]">[a] from Jerusalem.
Tradition says that one of the disciples was named Cleopas, but the reality is that we don't know for certain who these disciples were. Disciples are followers or, more specifically students, of a teacher, leader or philosopher. Jesus had many disciples. Some of them were very close to him and had been with him from the beginning. Some were led to him by the power of his teaching and the demonstration of his miracles. We simply don't know who these two were.
Jesus on the Road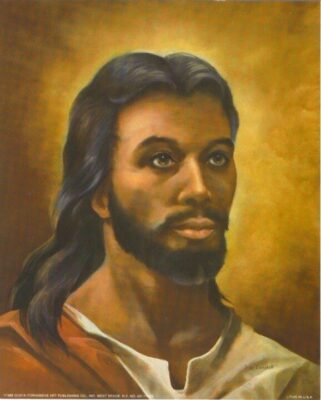 15 As they talked and discussed these things with each other, Jesus himself came up and walked along with them;
This is an example of how Jesus operates. He meets people where they are, in all their brokenness. Christianity isn't a state of perfection to be achieved. Christianity is a recognition that we need our saviour and that he is there for us, no matter where we are in life.
The Disciples at the Table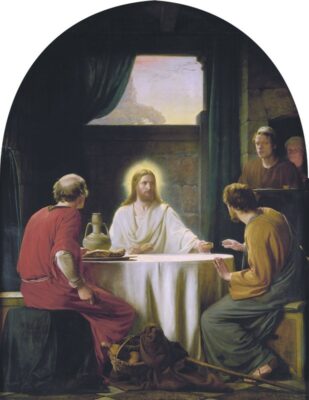 29 But they urged him strongly, "Stay with us, for it is nearly evening; the day is almost over."
These two, looking beyond their grief, saw a man who was about to walk off into the dark on a dangerous road in what amounted to a war zone. Their care and compassion wouldn't let them just walk away, so they invited him into their little shack and urged him to stay. They offered him a meal and a safe place to stay for the night. They did this, not knowing he was Jesus. To them, he was "a stranger and they invited him in. He was hungry and they fed him". This care and compassion is what Christian ethic is all about.
Jesus Breaks Bread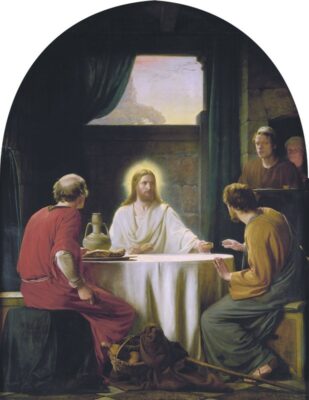 30 When he was at the table with them, he took bread, gave thanks, broke it and began to give it to them. 31 Then their eyes were opened and they recognized him, and he disappeared from their sight. 32 They asked each other, "Were not our hearts burning within us while he talked with us on the road and opened the Scriptures to us?"
Jesus, ever the teacher, gave these two disciples what they needed most; hope. It was only after this, that he, by breaking the bread and giving thanks to God, showed the disciples who he is.
This window tells the story of the risen Jesus walking the road to Emmaus with two his of his disciples. He gently teaches, comforts and strengthens them preparing them to continue his ministry.