Touch an area on the Window to learn more about the individual symbols.

St. Andrew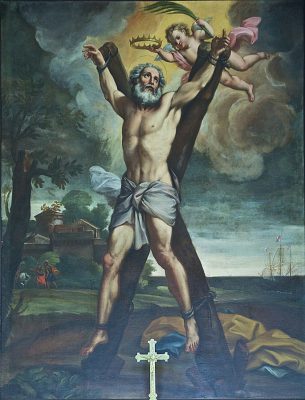 Andrew the Apostle, was one of Jesus' first disciples. The Byzantine Church honours him with the name Protokletos, which means "the first called".
A fisherman by trade, he was born and raised in Capernaum on the shores of the Sea of Galilee. It was here that he first met Jesus and was called to be "a fisher of men."
Andrew had a reputation for bringing people to Jesus. It was Andrew that brought his brother Simon Peter (St. Peter) to Jesus.
Come and See! That was Andrew's simple message to everyone. It is also our message to you.
The Sea of Galilee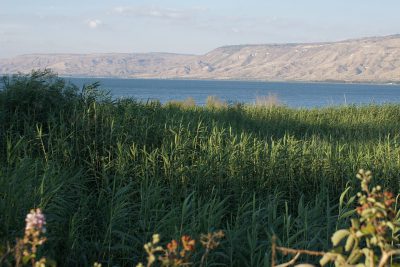 This window portrays Jesus and Andrew standing at the shores of the Sea of Galilee, Andrew's home fishing ground.
The Golan Heights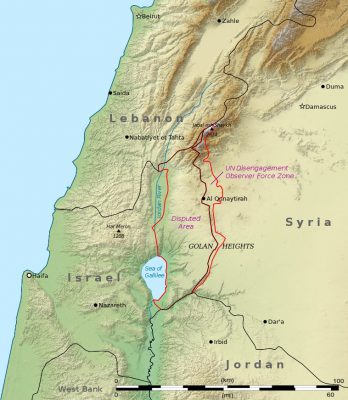 The Golan Heights wrap around the north and east side of the Sea of Galilee. Jesus met Andrew at Capernaum, on the north-west shore of Galilee. The hills in the background are most likely meant to represent the southernmost hills of the Golan Heights on the east side of the Sea of Galilee
Jesus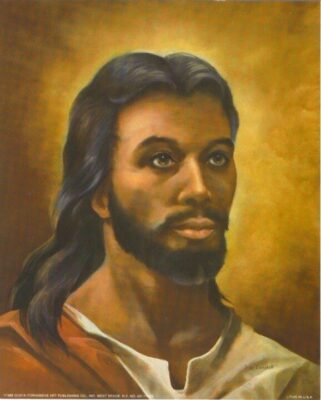 For to us a child is born, to us a son is given, and the government will be on his shoulders. And he will be called Wonderful Counselor, Mighty God, Everlasting Father, Prince of Peace.
This is how Isaiah described Jesus, several hundred years before his birth.
Isaiah 53
Who has believed our message
    and to whom has the arm of the Lord been revealed?
2 He grew up before him like a tender shoot,
    and like a root out of dry ground.
He had no beauty or majesty to attract us to him,
    nothing in his appearance that we should desire him.
3 He was despised and rejected by mankind,
    a man of suffering, and familiar with pain.
Like one from whom people hide their faces
    he was despised, and we held him in low esteem.
4 Surely he took up our pain
    and bore our suffering,
yet we considered him punished by God,
    stricken by him, and afflicted.
5 But he was pierced for our transgressions,
    he was crushed for our iniquities;
the punishment that brought us peace was on him,
    and by his wounds we are healed.
6 We all, like sheep, have gone astray,
    each of us has turned to our own way;
and the Lord has laid on him
    the iniquity of us all.
7 He was oppressed and afflicted,
    yet he did not open his mouth;
he was led like a lamb to the slaughter,
    and as a sheep before its shearers is silent,
    so he did not open his mouth.
8 By oppressiona]">[a] and judgment he was taken away.
    Yet who of his generation protested?
For he was cut off from the land of the living;
    for the transgression of my people he was punished.b]">[b]
9 He was assigned a grave with the wicked,
    and with the rich in his death,
though he had done no violence,
    nor was any deceit in his mouth.
10 Yet it was the Lord's will to crush him and cause him to suffer,
    and though the Lord makesc]">[c] his life an offering for sin,
he will see his offspring and prolong his days,
    and the will of the Lord will prosper in his hand.
11 After he has suffered,
    he will see the light of lifed]">[d] and be satisfiede]">[e];
by his knowledgef]">[f] my righteous servant will justify many,
    and he will bear their iniquities.
12 Therefore I will give him a portion among the great,g]">[g]
    and he will divide the spoils with the strong,h]">[h]
because he poured out his life unto death,
    and was numbered with the transgressors.
For he bore the sin of many,
    and made intercession for the transgressors.
This is how Jesus mission and ministry was described.
The Temple of God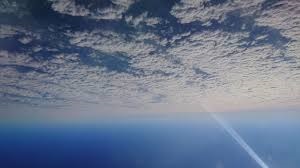 My Father's house has many rooms; if that were not so, would I have told you that I am going there to prepare a place for you? - John 14:2
This temple structure most likely represents heaven.
The Cross of St. Andrew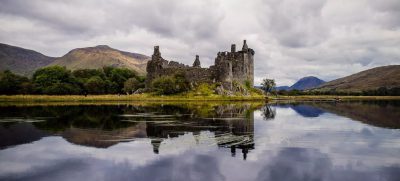 According to Christian tradition, Andrew was crucified in the Greek port city of Patras on the Gulf of Corinth. It is therefore fitting that his symbol would be a cross.
St. Andrew is the Patron Saint of Scotland, the ancestral home of the Presbyterian Church. His cross, a white diagonal cross on a blue background, has therefore been adopted as the symbol of Scotland,
Created in 1984 by Russel C. and Chris Goodman in 1984, this window was donated by Robert Scroggins and his family in memory of his wife Katharine R. Wooley.