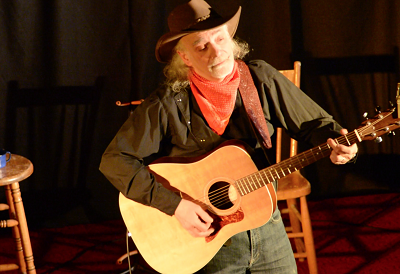 Neil Light performed his one man show, The Invisible Cowboy to an appreciative audience on Saturday.
The Invisible Cowboy was written to communicate to the very heart of Christian and pre-Christian people with the love of God and the good news of Jesus in a fresh new way, using a technique of communication modeled to us by Jesus himself… parables.
Neil is a tremendous entertainer and storyteller, and it was a wonderful evening, enjoyed by all.
Central would like to thank Neil for sharing his gifts with us in such an inspiring way.
The Story
The story of the Invisible Cowboy is told by Neil Light who uses music, song and dramatic monologue, to weave the tale of Benji, a young man in search of a hero. Orphaned as a lad, Benji is forced to grow up much too fast in a dusty town called Sanctified Flat.
Benji is compelled to seek out the Invisible Cowboy, for Benji believes that he is the only hope for setting straight the unscrupulous and rugged world of the Wild West.
The colourful characters he meets on his journey offer Benji their own advice. There's Skeeter Briggs, the town Sheriff, "Don't set your heart on him comin' here, let things be what they be." And Colonel Micah Wicket, the biggest rancher in the territory "… there ain't no heroes around here, just men and we don't need fixin'… " And the villain Mean Mike, and Frypan the one-legged trail cook. Hop McDuff, the traveling shyster, and there's Job, the owner of the town saloon where the only rule is "No spittin' in the floor"
Benji is befriended by a friendly shepherd who takes him under his wing and tells him he can see the Invisible Cowboy if he comes with him.