"A voice is heard in Ramah, weeping and great mourning, Rachel is weeping for her children and refusing to be comforted because they are dying."(Math 2:18)
This verse was the inspiration for Hilda's mission at Rachel's Children's Home. It is a harsh reminder of the generations lost to HIV/AIDS and it illustrates the fate that would await these children were it not for Hilda and Godwill. Without Hilda, the children of Rachel's Home would be another generation lost to AIDS.
This is her story, in her words.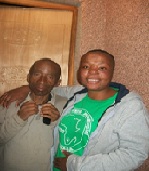 This is my family . We have been through a lot together and we are even stronger now because of your prayer support and financial support. I don't know what is happening to my face; but, that is how I look now and I hope it will all go away soon.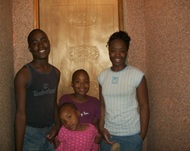 We now have 67 children at Rachel's. This is a lot of children and unfortunately we cannot give them up for  adoption because of unfinished reports from social workers . This has taken longer than we expected. Incomplete paperwork caused the failure of a matching meeting last week. This is unfortunate especially for the children. They need to have families and we need your prayers for this.
It is winter now and the green is gone; only cold mornings and freezing nights. There are a lot of little ones that like to play in the cold and it is not so easy to keep them indoors.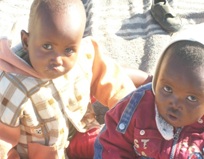 This is Bohlokoa and Rorisang. They are siblings. Poor nutrition has affected their development. They may look the same age; but, they are not.
We are about to close for school holidays now and we are going to have even more children this winter.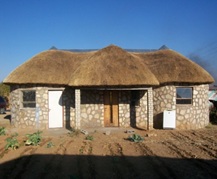 This is the rondavel that we build and it is almost finished . We did not have a sponsor for this building but we praise God for second hand clothing sales that made it possible. To support our mission, I buy second hand clothing from South Africa and sell in my country. It makes the difference.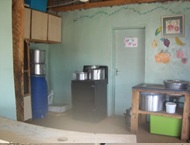 This is our kitchen. When we have access to firewood, we cook outside. This way we stretch every hloti (dollar) we have; though, sometimes it is unavailable and we must use the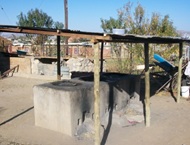 electric stove.
Thank you very much for making it easier for us to feed the children. This has been a struggle for a long time and we are really grateful for your contribution. The children do help with some gardening and they work in groups. Our teachers at work they are all hard workers.
We are very happy with our preschool teacher who is well trained.
We are truly grateful for all the help and support you have given us. You are really changing the lives of our children; and without you, none of this would be possible.