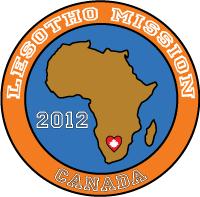 June of 2006 (winter in Lesotho) was a difficult time.At Rachel's Home funds were scarce. Hilda and Godwill were having a tough time caring for the children of Rachel's Home. The children of Central Church, in Cambridge, Ontario stepped in and began collecting pennies to support Rachel's Home.
"Worthless little pennies" what could they possibly accomplish?
Those little pennies helped Rachel's Home survive.
Those little pennies were the foundation of Central's missionto Lesotho.
The design of our 2012 logo pays homage to those little pennies.
The face of our penny has an outline of Africa. The heart and maple leaf mark the location of Rachel's Home in Lesotho. They symbolize our commitment to show God's love to our neighbors half a world away.