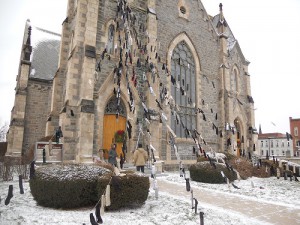 What can you do with 750 pairs of socks? With imagination and hard work, you can turn it into a cascade running out of Central's steeple. Why 750 pairs of socks? The socks, which were donated by McGregor Socks, represented the families who accessed shelter services in Cambridge in 2013.
Tara Gaskin, and her team from Westside Presbyterian, put this display together for Cambridge's Unsilent Night. Its purpose? To remind us of the urgent needs that surround us right here at home. The socks will be distributed, by our friends at the Cambridge Self Help Food Bank, to those in our community who need a helping hand.
This is a wonderful example of church and community coming together to make a difference. Many thanks to Tara and her team: Mark & Kathy Gaskin and Emma & Glen Christiansen for their hard work as well as to McGregor Socks for their generous donation.
This is what Christmas is all about.
Merry Christmas from the Presbyterian Churches of South Cambridge: Central, Knox Galt and Westside.