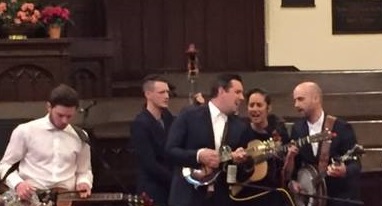 Rescue Junction performed before an enthusiastic crowd at Central on Saturday evening. Their energetic performance and uplifting brand of gospel and bluegrass music was a treat to listen to. Pat Singleton, the Managing Director of the Food Bank was on hand to remind us of why we were there. Mike Baskett, and the program that bears his name, has inspired many in Cambridge to make a difference in our community and Central is pleased to continue its support of Mike's Lunch Baskett and the many other programs at the Cambridge Self Help Food Bank.
On behalf of the Missions & Outreach committee, I'd like to extend a heartfelt thank-you to the band, the volunteers who worked so hard and to everyone who attended, for making the evening such a success.
With your help, we raised $645 for the Cambridge Self Help Food Bank.
Thank-you