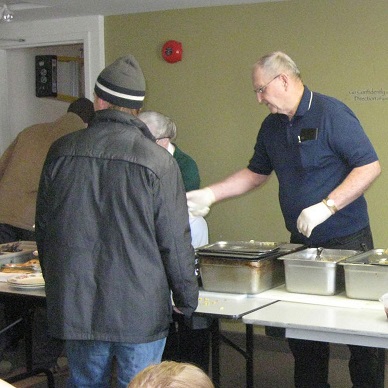 Mike Baskett was a remarkable individual. He had wrestled with his own demons and won. Having done so, he dedicated his life to helping others in need. He volunteered with ACCKWA and he was employed by the Cambridge Self Help Food Bank as their outreach worker for people on the street.
One Friday evening, after a long day on the street helping others, he came back into the office with a mission. Street people struggle each day to survive. Throughout the week, they could find meals at such places as Trinity Table; but, there was no place to go on the weekends. His plan was to host a meal at the Food Bank on Saturday mornings to try to fill the gap. The next morning Mike, at the age of 35 died suddenly from a heart attack.
At his funeral, donations flowed in. By the end of the day they had raised enough to launch the program. Mike's Lunch Baskett was born. His dream, of making it just a little bit easier for the most vulnerable in our society, would survive. Today, Mike's Lunch Baskett feeds 70-90 people every 2nd and 4th Saturday.
Central's Missions & Outreach committee has taken on the 4th Saturday of each month and we are looking volunteers.  The meal is prepared, from donated food, by a professional cook. Our task is to setup the lunch room, serve the food and cleanup afterward. We need 6-8 volunteers each month. We are hoping to assemble several teams so that the commitment required of individual volunteers is kept small.
Mike's Lunch Baskett is served at the Food Bank at 54 1/2 Ainslie St S, Cambridge between 11:00am and 1:00pm. Volunteers need to arrive at the Food Bank by 10:00am and can expect to be there until about 2:00pm.
If you can help, please contact Greg Gowing, Denise Mclellan or George Barrie. You can also reach us at rachelshome@cpcmail.ca