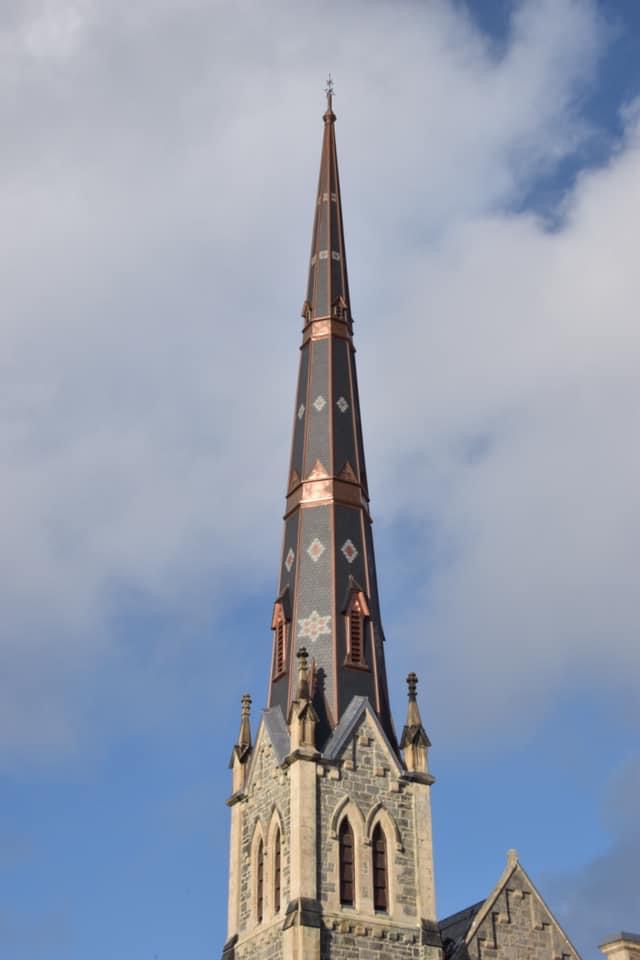 Although work on the Restoration Project has slowed down in the first quarter of 2022 due to weather conditions, the following work was completed:
The scaffolding has been dismantled on the southern façade of the church
and down to the eaves on the western wall.
Since this included the removal of the netting from the top parts of the scaffolding, this allowed Roof Tile Management Inc. to complete the remaining slating and copper work adjacent to the spire.
The lowest louvres in the belfry have been installed.
A spillway has been designed and installed that will force water away from the stonework of the north face of the tower.
Lightning protection has been temporarily connected to existing ground rods. These will be replaced by permanent rods and connectors as soon all scaffolding has been removed from the site.
Temporary downspouts have been installed to keep water away from the foundation.
Major unfinished aspects of the construction to be completed once the ground is no longer frozen are as follows:
Permanent downspouts will be installed.
Stone work on specific area of the riverside wall and the lower reaches of the southern wall will commence once there is no danger of frost.
The front steps will be replaced. The current steps and railings do not meet building codes.
The sidewalk to the office wing will be replaced. The current sidewalk is unsafe and the replacement will be sloped to make this entrance accessible.
After RTM has removed its equipment and storage units from the site, the site will be landscaped. Most of this work is included in our contract with RTM. Any upgrades will be at our cost.