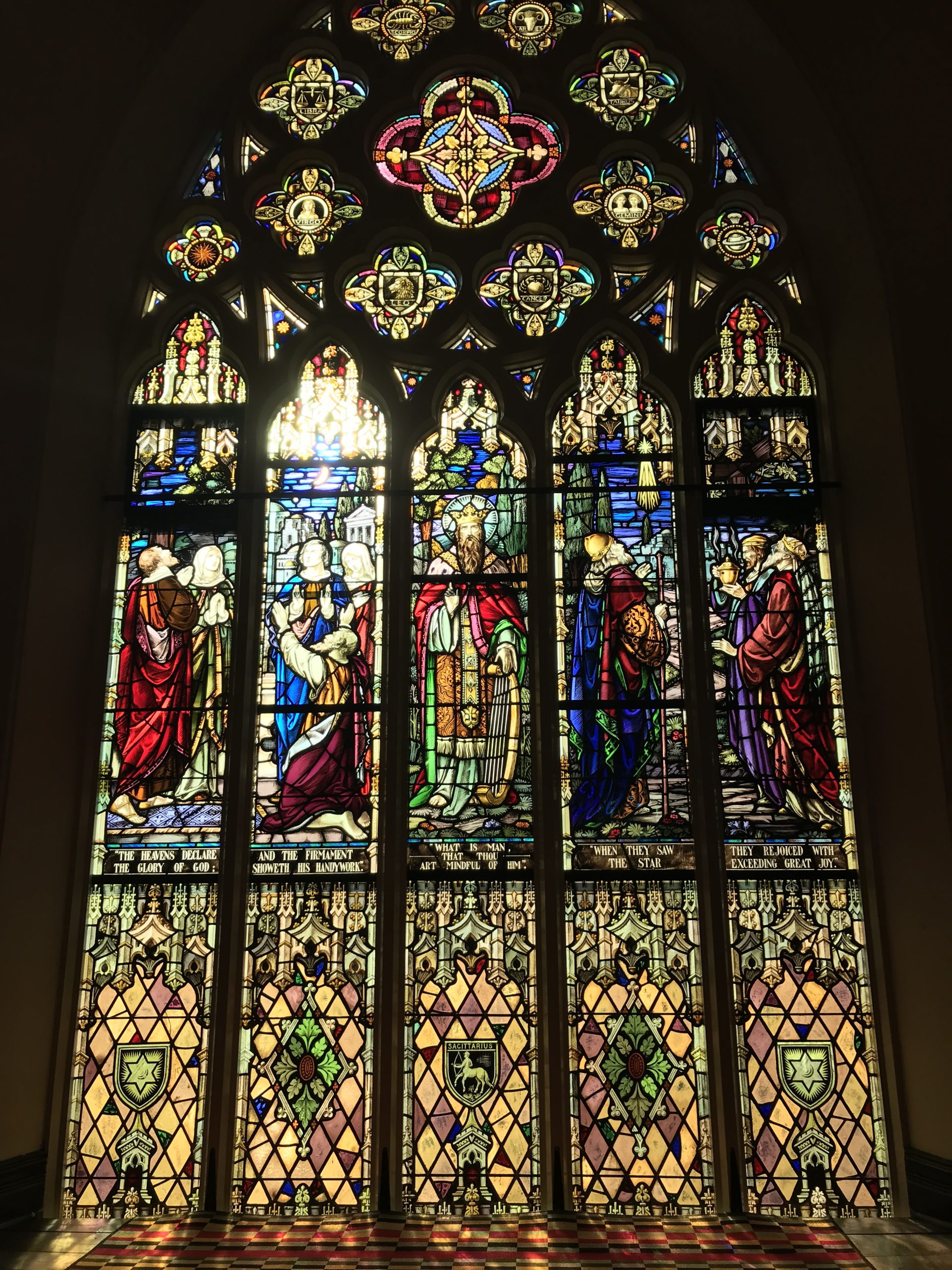 The south-facing Goldie window has been restored to its former glory and its jewel tones glow with renewed brilliance once again. This magnificent work of art had been neglected for many years and the woodwork as well as the stained glass was in desperate need of repair. While the restoration cost of $100,000 to repair and provide protection for the window was substantial, no one who views this beautiful window can doubt its value. When the sun is shining, the window truly seems to come alive, and fills the sanctuary with its vibrant colours.
The Goldie window, installed in 1930 by McCausland, is the focal point of the south wall of Central Church. At 28 ½' high and 9 ½' wide, the window spans the two floors of the church. The theme of the "Birth of Christ" is depicted in the 6 lancets which appear in the middle and lower levels of the window and features the Christmas Star. A unique element in this window is the depiction of 8 astrological signs in the rosettes at the top of the window, and the other four in the middle portion. One can only wonder at the discussion which must have accompanied its installation.
John Goldie was born in Ayrshire, Scotland, and was 22 when his famous botanist father brought his family to Greenfield, near Ayr, in 1844. In 1859, John and his business partner, Hugh McCullough, purchased the Crombie factory, located in Galt, and renamed it Goldie-McCullough, Ltd. The business flourished as the company produced steam engines and boilers for companies around the world.
John Goldie was very interested in astronomy and maintained his own observatory, and the astrological signs in the window were requested by his children as a testament to this interest.