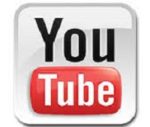 On January 4th, we began streaming Aubrey's sermons live, on Youtube, each Sunday morning at approx. 9:30. In the near future, once we have licensing and technical issues straightened out, we plan to stream the entire 9:15 service.
The service will be available live on our You-Tube channel
We are also looking for volunteers, who are willing to learn the technology (It's actually very simple). With enough volunteers, we will also stream our 11:00 service.
If you are interesting in volunteering, please contact us at centralchurchcambridge@gmail.com