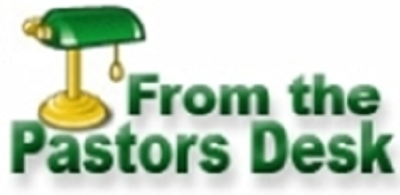 April 23, 2020
As I sit here in my office it is a grey and windy afternoon out there. But I thank the Lord that I am blessed, and I have a warm place in which to work and live.
My prayer for you this week comes from Paul's letter to the people in Ephesus.
Ephesians 3:14-21
14 For this reason I kneel before the Father, 15 from whom every family in heaven and on earth derives its name. 16 I pray that out of his glorious riches he may strengthen you with power through his Spirit in your inner being, 17 so that Christ may dwell in your hearts through faith. And I pray that you, being rooted and established in love, 18 may have power, together with all the Lord's holy people, to grasp how wide and long and high and deep is the love of Christ, 19 and to know this love that surpasses knowledge—that you may be filled to the measure of all the fullness of God. 20 Now to him who is able to do immeasurably more than all we ask or imagine, according to his power that is at work within us, 21 to him be glory in the church and in Christ Jesus throughout all generations, for ever and ever! Amen.
Worship
It is such a blessing to be able to connect with you through our weekly online worship service. Please remember to invite family and friends to join us online. Every week we are trying new things. Thank you for being patient as we navigate through unchartered waters. Thanks again to all the folks that are working behind the scenes to make this possible.
We are planning some interesting and exciting things for the services, like having a welcome team as part of the online chat on Sunday mornings. We are also looking into the possibility of hosting and online coffee time following the live broadcast on a Sunday. We will keep you posted.
Online Studies
We are working on getting a few online Zoom Bible studies going soon. Watch the website and these emails for the latest details.
Central Cares
Thank you to the Central Cares team who has been blessing our Seniors and Shut-Ins with a small gift.
The prayer ministry team is busier than ever. Thank you to these faithful prayer warriors who lift all of us up to the Lord. If you have a prayer request please send it to prayer@cpcmail.ca.
If you need help with anything, just a reminder again, please let the office know at office@cpcmail.ca or by leaving a message on the voicemail at 519-623-1080. We have a team setup that is there and ready to help.
Take good care of yourself. Smile a lot.
God bless,
Aubrey
P.S. If you haven't listened to this week's Podcast or you want to catch up on the others, just click this link. (https://centralchurchcambridge.ca/churchlife/podcast/april-21-2 )