Ruth
Ruth was a young widow, taking care of her mother-in-law Naomi. A great famine struck the region in Syria where they were living and they returned to Naomi's ancestral home in Judea. Though Naomi, seeing herself as old and a burden, begged her daughter-in-law to return to her home and family where she could rebuild her life, Ruth would not leave her side. The story of Ruth is the story of personal sacrifice for the good of another.
Bag of Oats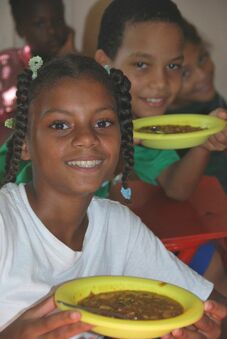 From Wikipedia
Gleaning is the act of collecting leftover crops from farmers' fields after they have been commercially harvested or on fields where it is not economically profitable to harvest. It is a practice described in the Hebrew Bible that became a legally enforced entitlement of the poor in a number of Judeo-Christian kingdoms.
Today gleaning is the practice of recovering surplus produce to use to provide food to those who are trapped in food insecurity. Locally, an organization called the Ontario Christian Gleaners, collects surplus fruits and vegetables, dries them into snacks and vegetable soup mixes and provides them to missionary and aid agencies around the World. Many school lunch programs, in Third World countries rely on supplies from groups such as OCG. In this way Christians make a real difference in the lives of children and communities around the World.
The Fields
5 Boaz asked the overseer of his harvesters, "Who does that young woman belong to?"
6 The overseer replied, "She is the Moabite who came back from Moab with Naomi. 7 She said, 'Please let me glean and gather among the sheaves behind the harvesters.' She came into the field and has remained here from morning till now, except for a short rest in the shelter."
8 So Boaz said to Ruth, "My daughter, listen to me. Don't go and glean in another field and don't go away from here. Stay here with the women who work for me. 9 Watch the field where the men are harvesting, and follow along after the women. I have told the men not to lay a hand on you. And whenever you are thirsty, go and get a drink from the water jars the men have filled."
10 At this, she bowed down with her face to the ground. She asked him, "Why have I found such favor in your eyes that you notice me—a foreigner?"
11 Boaz replied, "I've been told all about what you have done for your mother-in-law since the death of your husband—how you left your father and mother and your homeland and came to live with a people you did not know before. 12 May the Lord repay you for what you have done. May you be richly rewarded by the Lord, the God of Israel, under whose wings you have come to take refuge."