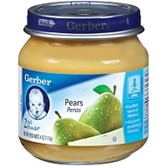 Summer's here and its time for our annual food drive for the Cambridge Self Help Food Bank. This year, we're collecting baby food. Our goal? To collect 500 jars by Labour Day.
You can bring your jars in on Sunday morning.
If you find Baby Food on sale, please post it to our Facebook page or tweet it under the hashtag #StuffaBuggy.
Let's go Central. Let's push this campaign through to the end.