Touch an area on the Window to learn more about the individual symbols.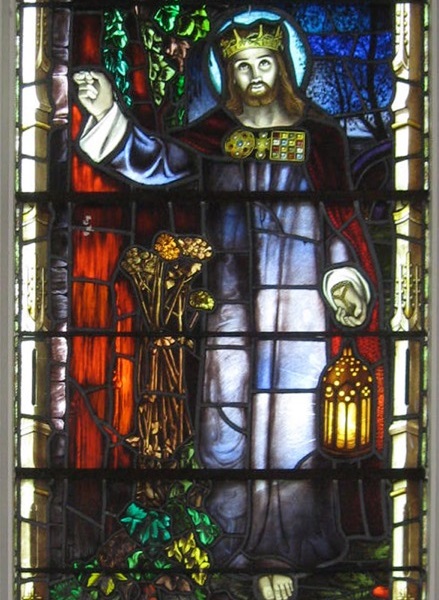 Jesus Christ
12 When Jesus spoke again to the people, he said, "I am the light of the world. Whoever follows me will never walk in darkness, but will have the light of life."
If the door, represents our heart and our soul, the lamp Jesus carries symbolizes the love and the hope that he brings when he enters our heart. Notice that Jesus is bare foot. That is meant to remind us that the Son of God does not put on a big show. Instead he walks humbly.
The Door
The door is a symbol of our life and our heart. Notice how overgrown it is. This is a symbol of our fear of opening ourselves up. We rarely let anyone into our lives and our hearts, but Jesus, will still stand there and quietly and patiently knock.
Notice too that there is no door handle on the outside. It is our choice as individuals and our choice alone to open the door. Jesus will not open the door and barge in. He will always wait patiently.
Created by Luxfer Studios in 1954, this window was placed in memory of Alfred and Margaret Taylor by their daughter Margaret A. Taylor.