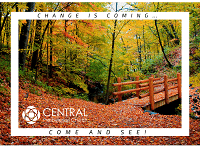 It's here!
Our new worship services start Sunday. The Gathering will be at 09:15. It will be a praise & worship service with a new dynamic open format. What will it evolve into? Only time will tell.
Sunday school and our time of fellowship will follow the Gathering at 10:15,and our classic service will follow at 11:00am.
It's an exciting time at Central as we reach out to new people, showing them a place where they can belong, where they will be loved and where they can work to make a positive difference in our community.
As we share God's blessing with our community and the world, we will shine God's light and we will make a difference.