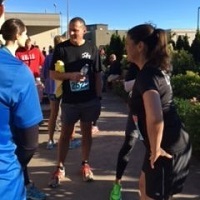 On Saturday November 4th & Sunday November 5th, a team from the Emergency Room @ Cambridge Memorial Hospital and a team from Central, will join hands for a good cause. These two teams will run in the events of the Hamilton Road to Hope Marathon.
Runners will be participating in three events: 5k, 10k and the Half Marathon. Pledges gathered by the teams will support our mission at Rachel's Children's Home.
Rachel's Home is an orphanage and primary school for the child victims of Lesotho's AIDS epidemic. Central's mission, provides funds to pay teacher salaries, provide food and clothing and, for the older children, pay high school tuitions. We have also helped fund education funds to allow graduates from Rachel's Home to go on to post secondary education.
Central has been part of this mission for 11 years and we continue to support Hilda and her team as they build better futures for the children at Rachel's Home.
You can sponsor our runners, by visiting our Canada Helps Site