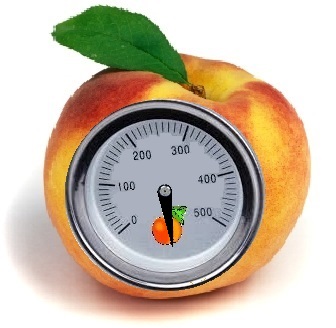 Yes, we can. No pun intended. Well, Ok yes, it was intended and there have been plenty of them, some worse than others, but we really made it. And how, our final Sunday we collected 69 cans. Even though the drive was finished, a few more trickled in during the week. This brought our final ?? total to 744. WOW!
We started out asking for 350 cans of peaches, but Grace said that wasn't enough. So, 500 it was. Then our children spoke out with their actions. They collected more than 100 cans, pushing us past 500 cans and on to a new target.
But what should that target be? 7oo cans? To have suggested that back in May would have seemed ridiculous, but God really does provide in abundance.
Through your generosity, we passed even that goal.
So, why peaches?
Yes, it was inspired by Aubrey's sermon about "Peach" churches and "Coconut" churches and yes we've had a lot of fun with it, but behind that fun lies a very serious issue.
Many families in our community struggle each day to keep a roof over their heads and food on their table. Often the parents of these families work 50 or 60 hours a week, just to try to make ends meet. Sometimes it just isn't enough and they have to turn to the food bank for help. The decision to ask for help isn't always easy. Many feel a sense of failure and a real loss of dignity and pride. It's very tough and it's also very unfair. You've learned a trade, developed your skills and worked hard, only to wake up one morning to find that your employer has moved on and there are no jobs out there for your skill set. So, you find work wherever you can, but it just isn't enough.
This is where the Cambridge Self Help Food Bank steps in. Every year it helps hundreds of families find a way forward. Assuring adequate supplies of fruit for struggling families has always been one of the toughest challenges that the food bank faced.
As we, on the Missions and Outreach committee, struggled to find a way to address the fruit problem, the word of God, revealed through Aubrey's peach church sermon provided our inspiration.
Why not peaches? So that's what we did.
The peach drive is over, but our work continues.  For a little while, the Cambridge Self Help Food Bank will be able to provide a little fruit to help families that are struggling provide better nutrition. Together we can make a difference.
Thank-you Central
Your Missions & Outreach Committee