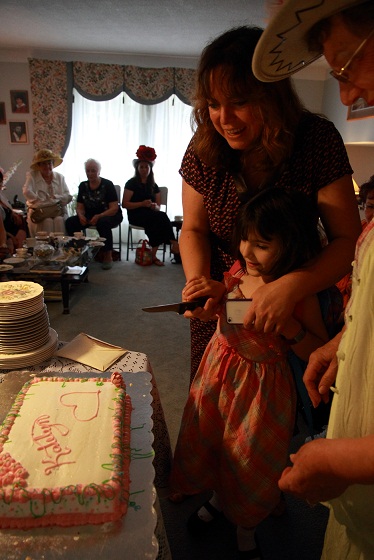 What started out as a garden party, ended up as a house party. The day dawned grey and rainy and the party was moved indoors. It was pretty crowded but everyone got a seat.
Our butler (Doug) and footmen (Jim, Scott and Donnie) dressed in white shirts, fancy vests and bow-ties served tea and sandwiches, shortbread, tartlets, a special cake made for Katelyn and of course lots of hot delicious tea. The ladies attending thought it great fun to have these liveried servants attending on them.
Katelyn DeMelo is six years old. She has autism and she is on the wait list for a service dog to help her in her daily life. The dogs are supplied by the Autism Dog Services. Because of the extensive training the dogs need for this work, they cost a lot of money ($18,000). The receiving family does not have to pay this amount but they are expected to fund raise. The garden party was part of Central's effort to help this worthy cause.
Our special guest was Heather from the Autism Dog Services who gave us a very interesting talk on how these dogs are trained and what a difference they make in children's lives. She brought along a cute chocolate lab puppy who had a great time playing with Nikita, the Whistance dog.
Everyone had a wonderful time. Many came in fancy hats and prizes of miniature rose bushes were awarded to Jenna Sinclair for an adorable hat trimmed with miniature teddy bears, Arminta Carmichael for her magnificent rose creation and to Pat Couttie for her study in blue.
Maybe we can repeat the occasion next year and hopefully get a sunny day to make it truly a "garden party".
For more information on dogs for autism, please visit www.autismdogservices.ca