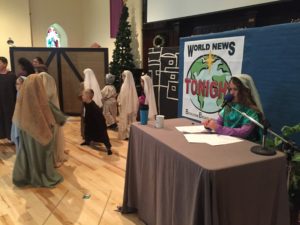 Central Church's Children's & Family Ministry Christmas Pageant
We welcomed in the season of Advent with our annual Christmas Pageant on December 11th. Approximately 40 children, youth and adults took part in this year's production, entitled "Live from Bethlehem" (authors: Cindy Hanson & Bob Latchaw, Group Publishing).  After six weeks of practices and preparation, the cast and crew delivered a wonderful and humorous presentation of the Christmas story.
In this retelling of the Jesus's birth, several first-century TV reporters are chasing a big story on the census when they stumble upon the story of a lifetime—the birth of the Messiah! Viewers were treated to exclusive interviews with Mary and Joseph, the shepherds and eyewitnesses present at the time of Jesus' birth. Between interviews were commercials for Kwik Kleen Camel Kleener, Netmenders, and a public service announcement promoting the census.
Everyone – from the actors, musicians, audio/visual support, acting coaches and more – did an amazing job! Thank you to all the parents, grandparents and caregivers who made the effort to get their kids to practices each week. It was also the first time the pageant was performed on our newly built platform. I am so proud of everyone who took part; it was a lot of hard work, but well worth the effort.
Praise God for His guidance and His boundless love and grace!
Stacey Yale Children's & Family Ministry Coordinator