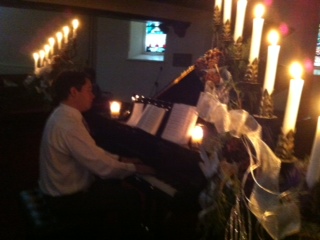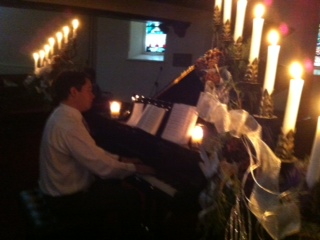 This was quite a week for Central.
Of course, we had our Christmas Eve Candlelight Service. It was a wonderful and inspiring evening. We would like to thank the guest musicians from the Cambridge Symphony Orchestra as well as our soloists Laura Saliba and Jim Matteer. Close to 800 people packed the church to celebrate the birth of Christ. The choir performed "And the Glory of the Lord" as well as the "Hallelujah Chorus" and  as always, we finished the night with "Silent Night" sung by candlelight. It was a very special evening.
But, it wasn't our only candlelight service. No, this year we had a second candlelight service. The last Sunday of Advent will be remembered for its ice-storm. With no electricity, no lights, no sound system, no organ, Central was magically transported back to its earliest days. Out came the candles. So, by candlelight and by the light let in by our wonderful stained glass windows, we worshipped our God. It was a service that will not be soon forgotten.
A special thank-you to Aubrey and Emile for their unflappable leadership as well as to Dawn and Peter for the beautiful photos.